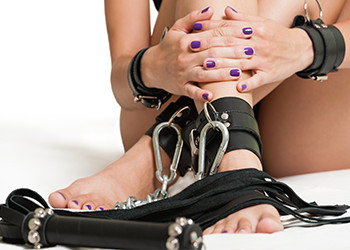 Bondage play is fun and sensual. It increases trust in a relationship and helps you to grow your sexual prowess. For beginners, BDSM and bondage are mainly bedroom play with handcuffs and restraints. If you are past that and think it's time for something better – here is your ultimate guide to bondage.
Best tips to improve bondage play
Certain techniques can enhance your whole experience of bondage. You will have more fun without worrying about your or your partner's safety. Let's take a look at some of those techniques:
Use a safe word: When you are trying new bondage roles it is always a good idea to pick a safe word with your partner. That way it's easier to express when you are restrained. Use of safe words is quite popular among couples who prefer bondage for sexual gratification.
Role playing – Role playing adds more spice and vigor to your bondage play. Explore your sexual fantasy with your partner in a restrained scenario. Use costumes and bondage clothes to add extra fun. It's always better to go for your kinkiest fantasies in costumes.
Bondage toys – Handcuffs can be considered as a bondage toy, although there are many more types. Explore new toys such as anal beads, and butt plugs with your partner. Consensually agree upon certain new bondage tools to enhance your sexual experience.
Best toys to improve bondage play
So what new toys can one use to heighten your sexual gratification. Discuss various options with your partner and choose accordingly. It is okay to be nervous about it in the beginning, but slow practice and caution slowly overwhelms the nervousness and brings in sexual ecstasy during intercourse.
Let's take a look at some options:
Leather Body Harness – This harness can act as the perfect restraining tool for your partner. It has adjustable buckle straps to fit both you and your partner.
Fetish Fantasy Series Vibrating Nipple Clamps – These vibrating nipple clamps are ideal for an ecstatic orgasm. The clamps entice your skin, creating heightened sensation in your body, ideal for any bondage position.
Rouge Garments Purple Suede Flogger – Consult with your partner if you want to introduce flogging in your bondage play. If yes, then this product is ideal to get started. It's soft on the skin, but leaves a tingling feeling – ideal for an intense orgasm.
This ultimate guide to bondage works really well for couples who want to explore more in their sexual relationship. With proper trust, confidence and practice, you and your partner will be able to derive maximum gratification from this.