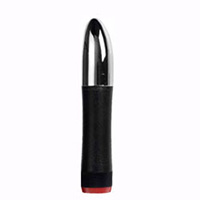 When your partner is away and you are in mood of some fun, a vibrator can help you out. It can offer you great sexual experience and not just an orgasm but the best one. It is better to take time to choose a vibrator wisely for yourself so that you hit the right spot. So, here is the list for you to decide which ones are the best vibrators in the market and which one you should go for. So, grab one that makes you drool!
The name says it all. This vibrator is a complete magic. It makes your day and gives you the pleasurable experience without always standing near the plug point. The vibrator is very light weight and makes very low sound, but there is no compromise in the functionality. You can also get attachment heads in the market which will offer more stimulation and deeper penetration. So, if you need some fun anytime, this is a great choice!
This vibrator is simply great. It has all that you wish to have in a vibrator. The best thing about this vibrator is that this great silicon vibrator can turn 180 degrees. It is power buttoned and comes with 8 superb power levels. Another plus point about this vibrator is that it is waterproof and also comes with an amazing penis ring. So, this is an all-rounder vibrator all set to make you crazy!
This vibrator will surely make you take a taste of heaven. You can experience endless excitement, with this amazing G Spot vibrator which has smooth curved surface for the best feeling. The vibrator has 6 different types of speeds for the G-spot stimulation and can give you pleasure with 7 types of clitoral vibrations. The product guarantees better stimulation and great strong pulsations. So, just touch the button and go on a trip to 7th heaven.
When it comes to sexual pleasure, nothing can be best than this penis shaped vibrator which is 7 inches long to penetrate deep into your vagina. It features a curved shape and can give you long pleasurable moments. The best part is that it is waterproof and so just apt for a fun shower or naughtiness in the rain. The vibrator has a realistic look along with 10 functions with 7 different patterns plus 3 sensational speeds to do as you love it.
When you are in a wild mood and want to try out something kinky, nothing can be better than these great vibrators which are loaded with functionalities and satiate your desires. So, which one are you picking?