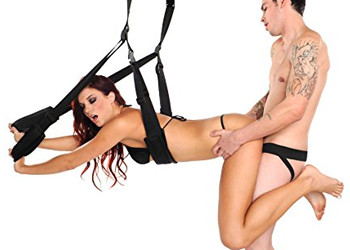 Are you looking to add some spice to your sex life without using any special sex toys? Well, it might be time for you to know how to use a sex swing. There is no need to play with any insertion toy if you or your partner is not comfortable with it – you can opt for an easy to use swing instead.
What are sex swings?
Sex swings are a special type of harness that is designed for use during sexual intercourse. It suspends one partner while the other penetrates or simply teases him/her for stimulating their libido.
There are many types of sex swings one can use, depending upon their choice and preference. However, the most common ones generally have a support for the back and buttocks for the person suspended on it. Many also come with stirrups to support the legs which can be adjusted for greater stimulation.
Different types of sex swings
In general there are 4 main types of sex swings. Let's take a look at each of those:
Easy techniques to get you started
If you are wondering how to use a sex swing with your partner, here are some easy techniques which you can use to get started:
Start off with a simple swing arrangement before moving on to complicated swings.
Always read the user manual or manufacturer's guide on how to properly set up a sex swing. Do not try to wing it on your own.
Lubricate your vagina or anus for the first time you are trying intercourse on a swing. It may take some getting used to, but it is totally worth it.
Generally the woman is suspended in a restrained manner so that the man can freely move around, creating more intense pressure and sensations inside the woman's body.
These techniques are enough to get you started. Once you get familiar with it, the whole setup becomes quite easy to maintain and utilize at whim of you and your partner. So go try one for yourself!