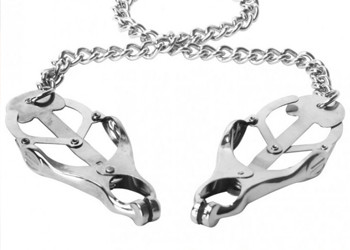 Nipple clamps are sex toys meant to create erotic sensations in your nipples. As many women already know, nipples are very sensitive in nature. In fact, scientific study has shown that they are two of the most sensitive erogenous zones in a woman's body.
This attribute is perfectly utilised to excite your sexual drive with the help of nipple clamps. Since nipples can be extremely reactive in nature, nipple clamps work well to create exhilarating sensations during foreplay or intercourse.
Brief History
Nipple clamps are considered relatively modern sex toys compared to dildos and anal vibrators. They were primarily associated with BDSM relationships before becoming mainstream in late 1900s. The origin of nipple clamps is unknown, but there have been certain indications which suggest that the earliest nipple clamps existed during in Greece.
Types of Nipple Clamps
Based on its design and purpose, there are multiple types of nipple clamps available for use. Let's take a look at some of them:
Adjustable Clamps: These are meant for beginners as they have adjustable arrangements to avoid any misuse. They look and operate like small twisters which stimulate your nipples.
Non Adjustable Clamps: These clamps are only used by experienced couples who have previously tried various sex toys. They operate on a spring system, and are non adjustable.
Vibrating Clamps: For couples who want to add extra spice to their kinky sexual fantasies, these vibrating clamps not only provides the squeezing sensation on nipples but also intensifies it with vibrations.
Tweezers Clamps: These clamps are much smaller in size than ordinary clamps, and work well on small nipples. It creates a more intense sensation and its screw can be tightened to increase pleasure.
Quick facts on Nipple Clamps
Now that you have fairly understood what nipple clamps are and what its different types are, let's take a look at some facts about these:
Nipples are very sensitive in nature so aftercare is must for nipple clamps.
You can add weights to your clamps to increase the pressure on your nipples, thereby increasing the sensations.
Nipple clamps feature heavily in fetish plays and BDSM, but they are also used in vanilla sex.
Using nipple suckers after you have used clamps greatly intensifies the erogenous zone around your nipples.
Teasing and playing with your nipples whilst clamps are attached to them intensifies the sensations around your nipples.
Nipple clamps are fun to use when you and your partner want to get kinky or role play during sex. They require minimum research, unlike anal sex toys, so you might as well try them out.