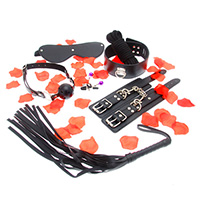 So, are you planning on getting started with something new and exciting in the bedroom that involves a little risk but a whole lot of fun? Bondage is the thing for you then! Bondage is a form of imbibing pleasure by restraining your partner. This is a form of fetish as bondage can pain and excite the body, mind and the libido at the same time. You may have the most common question as to why you should prefer bondage. That can be answered by saying that it is completely a matter of individual choice. One can totally or even partially, as the case and liking maybe, immobilise a partner's body with ropes, gags, collars, weights and handcuffs and sexually entice him or her. This has been one of the most used foreplay techniques in the world.
This is, unlike popular belief, a form of meditation. Many people prefer role playing, which is where one person acts submissive and the other the dominant. Many enjoy bondage because there arises an ecstatic feeling during the course of action.

Few basic facts about bondage are as follows. This will help newbies interested in bondage to get started.

A first and greatly significant step in the event of bondage during sex is using restraint systems. These can be anything is a wide range of things. You can use silk scarves, specialty ropes and sex tapes or even restraint kits. Some basic and playful bondage kits includes restraint kits like handcuffs that are used to cuff the hands of the submissive to the bed post, allowing the dominant to entice the former in whichever way he or she wants without allowing the former to control the other with the use of limbs.

If one is comfortable with the simple restraint mechanisms, you can move onto advanced bondage. This includes binding the submissive to an object, generally the bed or any piece of furniture like the chair with the use of soft ropes, tethers, sex tapes and restraint kits. People use special knot systems so as to complicate the process even more and thus make it even more exciting.

SAFETY DURING BONDAGE

For people starting out on bondage, there are a few ground rules that must be kept in mind which engaging in risk involving role play.

Open and clear communication between partners is a must.

Proper and detailed discussion about the risks involved and the techniques used are absolutely necessary so that none is uncomfortable with anything after the commencement of the act.

There must be a matter of proper and clear consent from the very start of the process.

Both the partners must have fun throughout the process.

For beginners, it is advisable by sex experts that they have a safe word. A safe word enables the partners to stop the act at any point either one gets into any zone of discomfort.

Communication is of utmost importance in any sexual act and especially in case of any act that involves some risk of getting injured in the process.

In case of body restraints, it is advisable that no partner ever restrain anyone by the neck as it can get injured very easily and lead to fatal situations.

In case of chest restraints, there must be plenty of room for the person to breathe and ample space for proper circulation.

For every sexual act involving bondage, it is vital that the partners keep a pair of scissors handy so as to relieve oneself in case of an emergency. In case of handcuffs, the keys must be kept close by in case of an emergency.