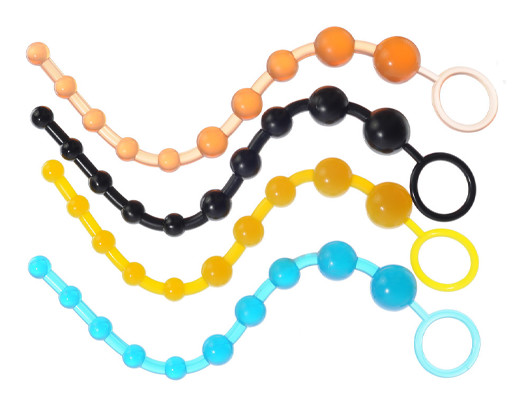 Anal beads are often a matter of choice for couples while engaging in bedroom bondage play. While some couples stay away from anal foreplay, many prefer to get aroused through anal orgasms. This is generally achieved with the help of anal sex toys – of which anal beads form an important part.
Basic idea on how to use anal beads
If you are a beginner in anal foreplay and want to try anal beads, there are some simple information you should keep in mind. These are pretty basic in nature, so if you are familiar with these – move on to the advanced tips for using anal beads.
Stay away from low quality nylon strings
Anal beads often require a handle at its end for the user to pull it off during orgasm. Some beads come with plastic balls tied to nylon strings. These are usually low quality products and they are not at all recommended for beginners.
Don't get blown away by porn
Porn actors who use anal beads are highly skilled in their craft. Do not try to emulate the sex toys and their usage from porn movies. Sizes of toys and actions involved in porn are highly misleading. Start slowly with a small beads, and work your way through it.
Use lubricants as a beginner for better results
It is always advisable to start using a sex lubricant for anal beads. Most water based lubricants work for couples, while some opt for silicone based lubricants for better results. Better lubes improve the tightening sensation of the beads, thus providing more sexual gratification. Anal lubes can be used but as anal beads are quite small it is not necessary to use a specialist lube.
Quick Tips to improve use of anal beads
After you have had a few experiences with anal beads and are familiar with it, it is time to move onto some quick tips which drastically improve your anal foreplay. These tips or techniques should be used to excite your partner more by teasing or stimulating their erogenous zones. Let's take a look:
Use condoms on your anal beads to keep them clean and reduce the risk of any infections.
Time the removal of anal beads from your partner's anus near or at the point of orgasm. This heightens the length and pleasure of orgasm.
Begin with vanilla foreplay before moving onto anal beads. This helps to turn your partner on easily.
Masturbating with anal beads is a great way to tease your partner, and it also stimulates your libido – thus making both of you ready for intercourse in no time.
Try multiple anal beads with varying sized balls for better and deeper orgasms with your partner.
These tips are certainly going to improve anal foreplay with your partner. Always remember to trust each other and enjoy the moment with your loved one.