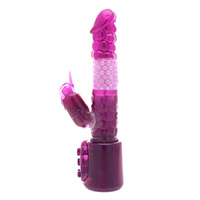 To spice up your couple's sex life, lots of couples choose sex toys, especially the vibrators. The vibrator can be used in many ways: externally for clitoral stimulation, internally for penetration or both at the same time. For many women, it is the easiest way to get an orgasm, so it is recommended by therapists.
But how do you choose the right vibrator? It's not easy, because there are many features to choose from. There are differences in material, function, quality, noise level and price. Take care primarily not to be allergic to the chemicals in the material, to bad allergies or other problems.
Classic vibrator is shaped like a classic penis (like a dildo) whose size may vary. The drawback of this toy is that it runs on battery, which, unfortunately, may end at any time and can flow. Another type of vibrator is a wand vibrator, which does not depend on batteries. It has a battery and can be connected directly to the mains. Produce a series of sensations more intense than on the batteries.
Before using a vibrator apply lubricant. Preferably one would have to use water based lube. You can purchase a vibrator in any sex shop, but beware of the size. Rule number one when you use a vibrator for the first time in the bedroom is not to leave your lover to do the job for you. Nobody knows you better senses except you. Try it yourself and, after, show your partner how he can do you, using this little toy! If it is too big or is inserted too deeply, the vibrator can cause pain instead of pleasure.
There are special vibratory torques, which can be fastened to the penis, one of the fingers, around the waist. Many men have no idea that they can use the vibrator alone, they think it is a product for women and homosexuals. On average, about 20-27% of people around the world enjoy the "services" of the vibrator. In 1976 in America, for example, only 1% acknowledged this in a study.
A dildo is a toy shaped like an erect penis. It is like a vibrator, but whose forms are extremely varied. In any shape or size, a dildo can replace successfully a real penis. It's a sexy toy, made of latex or silicone mainly designed specifically to be introduced in certain areas of the body to produce pleasure. Dildos for most of women are used to reach orgasm faster. Others use it for the pleasure of masturbation and unique sensation to feel a hard object in the vagina.
If you decided to buy a dildo you have to take into account several factors such as: size, texture, hardness and thickness. Recommended is to study well before you buy it. Two of the most common materials used in making a dildo are latex and silicone. Silicone is usually more expensive, but is preferred by most people because it is much more malleable. Essential when you buy a dildo is his size. It would be good to start with a smaller one!