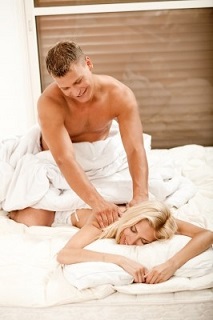 What comes to mind when you think of a sensual massage? A slow and soothing music in the background, gentle hands, a lot of comfort and a very relaxing time? Of course! But what if you are the one who is giving the massage? Getting to touch that silky and smooth body with your hands and running them on her curves, must surely be one of every guy's fantasy.
Therefore, before you learn how to give your partner a sensual massage, you need to get hold of some simple ingredients. You need to set the mood perfectly and in the right way and this will ensure that your massage has a huge effect on her pleasure and you get the greatest outcome.

1. Getting the mood right

Setting up the mood is the first and primary thing to do when it comes to giving your partner an erotic massage. You need to get her to be comfortable by all means. Therefore, first, do not forget to dim the lights and light up a few candles. You can get mildly scented ones. Do not get anything harsh smelling but something that soothes the senses, like lavender and jasmine. Next, get a good and firm surface that has good access to everything and has plenty of space to move around. Let her lie down there. You can lay a beach towel on the floor, you can use your bed or even a table, if you are feeling too adventurous. If you are giving her a simple hand or scalp massage, you can use the couch too.

2. Music is the key!

Music is a vital ingredient of your sensual massage. Therefore, it needs to be soothing by all means. No metal music like AC/DC or Ozzy Osbourne please! Sounds that create ambience and blues and jazz are perfect.

You need to ensure that your goal is either to sooth your partner's nerves so that she gets some good sleep or to entice her enough to have some raunchy sex with you. If a romantic body massage is what your partner is into, then you can choose some old jazz and soul music.

3. The massage oil

oil is the most important and the most crucial ingredient. It works as a mechanic works on a wrench. You can choose from the following essential oils mixed with a basic, non-fragrant oil like olive oil:

Hemp, Jojoba, Apricot Kernel, Hazelnut, Coconut, Safflower, Sesame, Grapeseed, Camelia etc.
You can find most of these at the grocery store and exclusive massage oils at spas and sex shop stores. Almond oil is one of the most sought after and popular oils as it is slightly oily and lets the hands glide well over the body. It gets absorbed into the skin very quickly thus leaving you very little oily mess to clean up later.

4. Massage techniques
SHIATSU: this is the main technique which is used in spas in Japan and it is one of the easiest to learn. If you have ever gotten a good back massage where the masseuse rubs out the knots from your spine with the aid of the thumb then it is the Shiatsu style. You need to lay your hand or fingers on a certain spot before you lay pressure and rotate slowly. Try and locate the knots in the upper back and slowly loosen them up in the rotating motion.

COMPRESSION: this is also quite easy a technique. You basically, press down on one section thus increasing the blood flow to the area and in turn, loosening up the tense muscle.

FRICTION: this is one of the more advanced techniques but still quite easy to execute once you get a hang of it. It is perfect for application on the palms of the hands and the feet. This technique does not really require oils and is just the use of friction to increase blow to the areas. It is focused on the stroke, which is applied on a small area quite rapidly and with good stability and pressure.