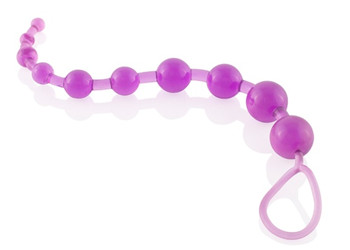 Anal beads are just like any other anal sex toy you are going to try – it stretches and relaxes your rectum during or before orgasm in order to intensify the whole experience. With anal beads, you can achieve maximum penetrating pleasure in your anus, causing intense sensations in your erogenous zones.
Anal beads in bondage play
Anal beads can certainly be used for any romantic sexual encounter with your partner, but they are primarily used as an effective method during bondage play. As you or your partner is restrained by rope or tape, inserting anal beads can heighten your libido immensely.
Let's take a look at how anal beads influence bondage play:
The best time to use anal beads is when you are with your partner. Communication is very important for using those beads – as it improves the overall experience and also heightens your libido.
Relaxing your partner with foreplay or mild sexual teasing is appropriate before using anal beads. During insertion they contract the rectum muscles, so relaxing your partner is helpful for improving their pleasure immensely.
Water based lubricants can be used to stimulate the smooth and relaxing sensation for your partner. Start off slowly and use slight force – this provides a orgasmic reaction from your partner.
Bondage with handcuffs or ropes gives an extra incentive to the restrained partner to react excitingly to the anal penetration. This is equally enjoyable to watch and experience between couples.
Purpose of Anal Beads
Anal beads are used for varying purposes. Many couples use it to spice up their sex life, while some use it for BDSM. They go pretty well with both rough and vanilla sex – so you have got something for every mood and sexual urges.
Confidence and trust is the key while playing with anal beads. Relax your partner so that he or she breathes deeply while inserting the beads. This intensifies the anticipation of intercourse, resulting in an explosive and satisfying climax.
A Different style of usage
Some anal beads also come with vibrators which can be used to trigger the nerve endings in your anus. You can also go for vaginal vibrators while inserting anal beads. This relaxes the inner vaginal muscles, causing your partner to get lost in their sexual awakenings due to the intense sensations.
These beads are very erotic in nature, but always remember to stay in the moment and concentrate on your partner's satisfaction. This way you and your partner can both enjoy the most out of it.