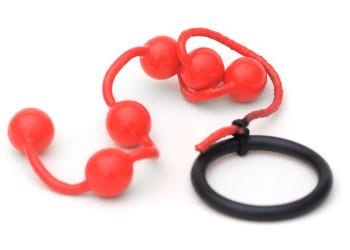 Anal beads are a type of anal sex toy which you can use to intensify your partner's anal orgasm. There are many types of anal beads, but the basic conception involves multiple small spheres or balls attached together in series.
These beads are inserted slowly through the anus, in to the rectum and later removed to intensify your orgasm. Anal beads are used in varying ways – from kinky bondage sex to simply passionate love making.
Design of anal beads
Since users like to play around with adult toys to enhance climax, there are multiple types of anal beads – available in different shapes and sizes. Some are small measuring around 25 mm in diameter, while some go adventurous with large beads of diameter 125 mm.
These beads are made of silicone, plastic, latex or rubber. Some high quality anal beads are made from glass as well. Most anal beads come with a handle at its end which facilitates pulling it out during climax.
Design variations in anal beads also involve varying flexibility – while some beads are joined in a flexible manner, some are pretty rigid. These different types are meant for different purposes – the first of casual bedroom play and the latter for advanced bondage play.
Brief History of anal beads
Anal beads have been around for a very long time. As far as its historical context is concerned, the earliest primitive anal beads were discovered in Egypt around 750 BC. It was primarily used for self masturbation, with indications of casual foreplay.
Later historical references to anal beads were discovered in Germany and Berlin around 1500 AD. Even though these anal beads resembled very little of modern day beads, but their purpose were similar.
Quick facts on anal beads
Now that you have got a fair idea about anal beads, let's take a look at some of the interesting facts associated with them:
Anal beads sometimes come with vibration technology which prepares the user for a more intense climax.
The modern day anal beads were patented back in 1998 by Lee Ann Hartwig in USA.
Anal beads find their application in many sex fetishes such as anal sex, ass worship, enemas or spanking.
The sensation due to anal beads is caused by the contraction and relaxation of rectum sphincter muscles.
Every 1 of 6 couples have acknowledged the role of anal beads in their sexual fantasy in 2016 – which is slightly more than the figure in 2015.
Anal beads can be very pleasurable to you or your partner if done properly. Make sure that you are communicating well with your partner and simply enjoy yourself.