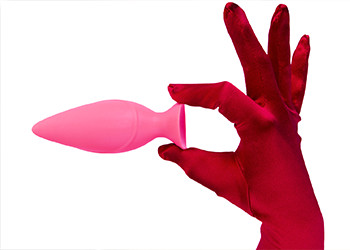 It is always better to research information online prior to using any type of anal sex toy. Sadly, most anal sex toys do not come with an instruction manual or guide, but it is very important that couples find out important details about those toys before using them.
It is certainly not desirable to go for anal pleasure without proper research, as it can often lead to a bad experience in the bedroom. For beginners, anal foreplay with adult toys can be awkward. However with patience and trust, you and your partner will slowly start enjoying its pleasures.
Beginner's Guide to Anal Sex Toys
At first let's start off with some basic tips associated with anal sex toys. Some information can be easily found with the product, but many details are left out. Here we will cover those details:
Consent – The number 1 rule for experiencing the most out of your anal sex toy is consent of both partners. Always discuss the use of toys prior to using them. Do not assume that your partner will agree on it during sexual intercourse.
Lubrication – Most anal toys are designed for insertion purposes. Hence lubrication is your best friend while using any anal sex toy. Unlike the vagina, the rectum does not self-lubricate itself on pleasure. So start off with extra lubrication for both your anus and the sex toy to facilitate insertion.
Communication – It is always better to communicate with your partner when using anal sex toys. It instils confidence in both and provides incentive for an intense climax with some dirty talking.
Position for penetration – It is always advisable to find a comfortable position for yourself while inserting any anal sex toy in your rectum. A proper position helps to relax your rectal sphincter muscles, allowing for easy an smooth insertion.
Quick Tips on Anal Sex Toys
Now that we have covered the very basics of using anal sex toys, let's move onto some quick tips that will help you and your partner to have a thrilling yet safe experience in bed:
Manicure is essential for any kind of anal foreplay, including toys.
Additional genital stimulation is very helpful during using any anal sex toy.
Never use your anal sex toy for vaginal insertion to prevent bacterial infections.
Choose the right material for your anal sex toy – do not go for cheap plastic ones, either start with a rubber sex toy or move to silicone ones.
These tips can certainly get new couples interested in using anal sex toys, and it will also improve anal sex for those who have already tried it.