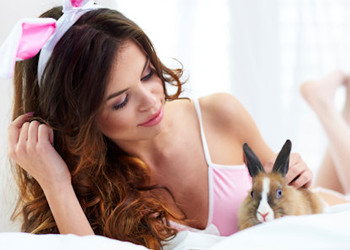 The Rabbit Vibrator was produced by a Japanese sex toy manufacturer where sexual gratification of females was considered significant. There was an increasing demand of pleasurable sex toys among women that led to growth of rabbit vibrators. The invention of this vibrator is still a point of debate but this vibrator gives amazing feeling to women. While many women are enjoying sex using rabbit vibrator; many do not know what is a rabbit vibrator.
The rabbit vibrators give more intense sensations than the clitoral simulator or the dildo as they offer simultaneous clitoral and vaginal stimulation. The company California Exotic Novelties manufactured the "Original Jack Rabbit."
The detailed features of a Rabbit Vibrator
Rabbit Vibrator not only provides internal stimulus but also stimulates the clitoris of women. The appearance of this vibrator is similar to rabbit as simulators present in vibrator look like rabbit ears and is attached with shaft using vibrating bullet. In some vibrators, ears are replaced by beak of the bird, or elephant trunk. It is designed in such a manner that it directly approaches clitoris of women. Earlier these vibrators used to come with noisy motors but these days they are equipped with quiet motors but cost of these vibrators is very high.
It is specially made up of soft substance that is considered perfect for intimate use. Mainly silicon material is used because it is a non-porous substance and you can easily clean it. You will also find in the market rabbit vibrators made up of plastic, metal, vinyl and other elastomer material. Such material is also safe because they are less porous and texture is smooth.
Unique features of the Rabbit Vibrator
Rabbit vibrators have certain unique features such as teasing anal probes, rotating heads, squirming pearls and thrusting heads etc. It also allows lot of control functions such as controlling speed or rabbit clitoral simulator etc. The rabbit shaped simulator is for the clitoral stimulation while the shaft is taken inside vagina for all round maximum stimulation. The rabbit vibrators come in different speeding, spinning and vibrating options which makes going for one a difficult task. The shafts of many vibrators have spinning beads to leave you ecstatic and wanting for more. You can even get the waterproof vibrators if you wish to play in the shower. There are even other controls which help you reach the spot of self-satisfaction.
The toy is more pleasurable because of clitoral vibrator and vaginal simulator together. Women can enjoy blended orgasm which is a combination of clitoral and vaginal orgasm using the rabbit vibrator. In case you wish to use it for anal sex, you can use it but it requires lot of precautions. You need to clean it properly after use or you can use it with condom. As it is specifically designed for vaginal penetration, it may not give as much pleasure. But, the toy is just perfect for uninterrupted enjoyment and enough to please. So, buy your vibrators now and get the best band from your bunny. You will surely be all aroused the next time someone asks you what is a rabbit vibrator.