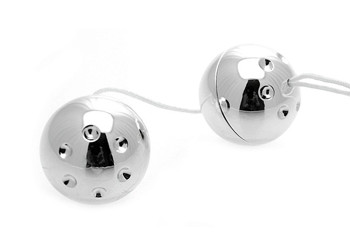 It is always better to understand how a sex toy works first before trying it out for yourself. Especially with toys that require vaginal or anal insertion, you should be equipped with clear instruction before actually trying them out.
Ben Wa balls are just like any vaginal sex toy, and require quite similar understanding on the user's part to use them effectively. Let's start off with some basics of using these balls, and then move onto more advanced tips and tricks.
Basic Usage Guide
Before you start off with how to effectively use Ben Wa balls, let's focus on some basics here.
Position yourself in a comfortable fashion to ease up the insertion of balls in your vagina.
Lubricate the balls very well with any gel or water based lubricants before inserting them in your vagina.
Tense your lower body and tighten up your vagina while inserting the balls. This gives a better grip on it, holding them inside.
You can also increase your pleasure by moving around with them inside you. This should be attempted after you have tried it on for a few times.
Quick tips to improve use
Even though the basic usage behind Ben Wa balls is pretty same for all types of balls, there are certain innate tricks or tips that you can use to intensify your pleasure. These tips can be generic in nature, but they are primarily meant for advanced users who are perfectly comfortable with Ben Wa balls.
If you are a beginner at this, try the basic guide first. Once you are familiar with the sensations and accustomed to the intense sexual drive, you can give these a try. Let's take a look at some tips:
Tease your partner by wearing these balls in public. They intensify the thrill and improve your libido – making it an excellent idea for date night.
Metal balls are way more sensitive inside young vagina than plastic ones. Play with those metal balls by sucking it and teasing your partner with it for improved foreplay.
Use warm water and soap to clean them. You can also use lukewarm water to moisten it up prior to insertion. The warmth feels heavenly inside your vagina.
Slight spanking while keeping the balls inside your vagina is a great way to initiate an ecstatic orgasm. The balls roll inside your vagina with each spank, and create a vibrating sensation far better than ordinary ones.
These tips can certainly spice up your and your partner's foreplay choices. It is easy to start using, but first be familiar with the initial feeling before trying out spanking or teasing. Always remember to enjoy yourself.