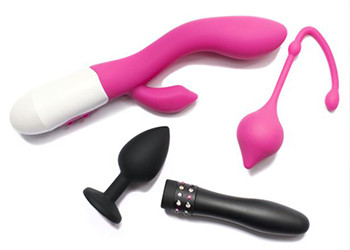 Using adult toys during any sexual activity adds a whole another level of excitement and anticipation to it. It improves your sexual drive, and also makes up for an interesting experience with your partner.
Generic Tips on Sex Toys
Even though million of people use sex toys safely and effectively, there are certain small details one needs to remember. We will take a look at some of the general tips and techniques that will make your sex toy use much more fun and interesting:
Research your sex toy thoroughly before purchasing it. Sex toys do not fall in the category of haste shopping. You should properly understand it before buying it.
It is always better to use your fingers to pleasure yourself or your partner while suing any kind of sex toy. The sensation of touching the skin adds a whole new level to the excitement of using a toy.
Check your or your partner's allergies before purchasing sex toys. People are allergic to several materials – especially certain types of plastic or rubber, which are used extensively to make toys.
Tips on using male sex toys
For men the most prominent sex toys are cock rings and anal dildos. Let's take a look at some of the tips which you can use to improve playing with those:
Check the girth of cock rings before ordering one for yourself. Certain materials contract or expand after a certain period of time – especially plastic. Cock rings are supposed to fit you perfectly so check properly before use.
Lubrication is the key for anal sex toys. For men, the prostate gland is extremely sensitive but it does not lubricate itself. For easy access and pleasure, be sure to lubricate your toy very well.
Tips on using female sex toys
Women have a wide range of toys to choose from. There are vaginal toys as well as anal sex toys. Nipple clamps and pinwheels are also used for pleasure. So use these tips to improve your sex toy use:
Safety is very important for any kind of toy. Women are naturally more receptive to pleasure due to their widespread erogenous zones. So always be safe while using any toy.
Use anal sex toys with extra care – start slowly and masturbate your partner's vagina while inserting anal dildos or beads.
Even though vaginal toys do not

require

lubrication if the women is aroused properly, it is always important to apply lubrication on anal toys.
These tips and techniques are nothing new, nor are they special. However one should always remember them in order to improve your experience with toys in bed.