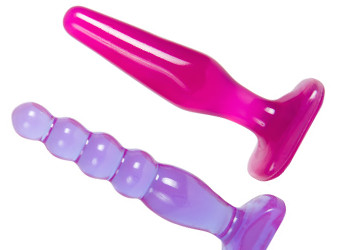 Butt plugs are a part of anal sexual adventure with your partner. They are sex toys which can be inserted into the rectum to enhance sexual pleasure during intercourse or during solo masturbation. It provides intense anal arousal, and is a exciting way to explore anal sex with your partner.
What does it look like?
If you have not seen a butt plug before, it is basically a conical shaped toy which can range from small to large in size. The slimmer portion resembles a dildo, but contrary to a dildo, it has a flared base which is used to hold it in place and remove it safely.
How to use a butt plug for the first time
For a beginner in anal sex toys, butt plugs can look intimidating at the very start. Follow these simple steps to slowly make your transition into using it:
Start off by lubricating your plug and your anus properly. It ensures that your anus will stretch smoothly without any friction.
Position yourself in a comfortable manner to start the insertion. You can either bend on all fours if your partner is inserting the plug, or you can lay on your back with a cushion underneath it, and spread your legs.
Hold the flat bottom of the plug and start inserting it smoothly. Apply lube whenever necessary to ease the process.
When you are comfortable with the initial insertion, slowly rotate the plug and keep on inserting it with lube as much as you feel comfortable with.
Soon you will start feeling sensations inside your rectum. Intensify it with some masturbation or foreplay with your partner.
You can also try to have intercourse while putting the plug in. This stimulates vaginal orgasm very intensely, especially when you start slowly grinding against it. After your initiation with butt plugs, experiment with it to find what position and conditions are best for you.
Quick Tips to improve butt plug use
For those who have already used butt plugs during sex and want to try something a little more adventurous, there are certain tips you can follow. Let's take a look at how you can improve on it:
Use the plug on a squatting position to allow deeper penetration.
Keep the plug in for longer duration of time, ranging from 30 minutes to not more than 2 hours. This causes your orgasm to build up slowly.
Use a condom over a plug for better penetration and improved sensations.
Try double penetration with your partner using a butt plug in your anus, while your partner penetrates you in vagina.
Always remember to clean your plug properly after use with an anal disinfectant to avoid bacterial disease.
These tips will certainly provide more thrills in the bedroom, and bring in extra spice to your sex life.