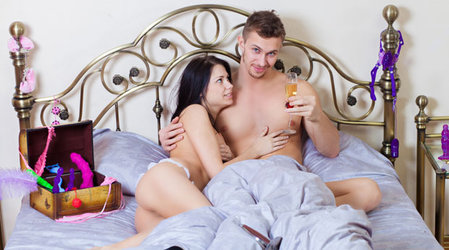 Foreplay is like a warm up before your routine at the gym, a very underrated thing that most people just pass by and call it a day, and people who dedicate to that enjoy the benefits like: less muscle pain, less joint problems and so on, but hey you don´t want to read about warm ups for exercise right? So let´s get back to sex and foreplay, everybody who is sexually active knows that women tend to need more time than men to "get there", to reach orgasm. Foreplay is the preparation for the main act, you must prepare your partner to the game prior to it. So if you are a guy, this is meant to let you step up your game and if you are a lady, well, you can always teach your partner things that might heat you up for that great action.
Foreplay should not be a sacrifice, or a meticulously made action with a given time and routine, if your partner feel this is just a routine for you, it can be a breaking point and ruin everything. So take your time, enjoy your partner´s body and let things flow smoothly, (calm and patience are your friends here) you will know the time when she´s ready for the big game. Let´s see some kinds of foreplay you can use to improve your sex life and make your partner scream of pleasure:
Talk that Talk
This usually works for everybody, just say how you feel about your partner and give her(him) that dirty talk right to the ear, dirty talk is fun for both parties, the benefits are almost in real time and you might get some great feedback about it. Try it out!
Hey Take it Easy boy!
Let´s talk about her golden tool of pleasure, the clitoris. Everybody knows it and knows how powerful a massage on this area can be for a woman, yet, the way to pull this off is very often misunderstood by men. It´s important to notice that direct stimulation of this area can actually be really painful, so you might want to be smooth and careful about it and give a lot of attention to the hood, the clitoral hood is where you want to be, you can rub your tongue around it and then the clitoris will react to that stimulation, then you can switch back and forth between the clitoris and the clitoral hood area.
Control your man
Some call this "start-stop trick", if you want to take the lead and guide your man through sex you need to know how to control his penis, pretty straight forward huh? That´s the most sensitive part of their body and nearly his entire body will respond to stimulation on this area, that´s why you can tease him with your mouth or hand and when he gets near climax (his body will tense up) you can ease off and make sex last longer focusing on other areas of his body.
Be passionate
Let´s not forget about kisses, the classic demonstration of passion is a powerful tool in sex, women tend to be more romantic and passionate kissing during sex can make her erotic pleasures bigger and last longer, show that you love her, you can also switch between kisses on her nose, forehead, eyes and entire body, show let her know that you are really passionate while doing it.
Dress Code
Most people miss this and run for the kill instantly, if your partner is dressed up for you, don´t miss that, you should appreciate the outfit, maybe a nice lingerie that she bought just for you, just for this night with you, right? How could you not see that? Undress your partner slowly, that´s a foreplay too, admire her body and the outfit she´s wearing, this undressing process along with nice and soft touches on her body can be a great foreplay for a romantic occasion.