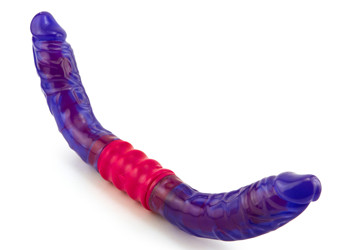 If you want an altogether different sexual experience, then double Dildo can give you double satisfaction. A Double Dildo is a sex toy which is meant for simultaneous stimulation of vagina and anus. It can take your sexual experience to just another level. Double Dildo is like a normal Dildo but it has two heads instead of one and is versatile plus fun to use.
It is made up of very soft and flexible material such as silicone, jelly or rubber and size of double dildo is usually 12 inches or longer than that. You can use such dildos yourself or with your partner to get a delightful experience. But, for that you must know how to use a double dildo.
How to use a double dildo?
One end can be used for thrusting
It's a double headed dildo as the name suggests, so the pleasure would also be double. You cannot find anything more outrageous than this dual headed sex toy. You can use them in numerous ways either alone or with your partner. While using it alone, use only one end of the dildo either in vagina or anal and other end will be spared for thrusting.
Double penetration fun
For those who wish to get double penetration fun they can insert one end in vagina and other one in anal. However, if it is used with partner then you partner can handle the thrusting from other end.
Penetration in your guy's anus
If your guy will like to get the double dildo inserted in his anus, you can do that too. Insert one end in your vagina and the other one in his anus. Sounds something interesting right? You need to use some of your creativity to enjoy real fun in this activity.
Get a pleasurable start with this dildo
It is not necessary that you already know about its perfect use. There is no particular way of how to use a double dildo. There are numerous varieties of double dildos available in the market. You can buy any size and design that suits you the best. While using it first arouse yourself properly or your partner may do it for you. Make sure that before inserting it in your vagina, there is plenty of sex lube. You can put other end in anus once you start feeling comfortable. Water or silicone lubricants are better as it prevents dehydration. You should not use silicone lube if your toy is made up of silicone material, instead use a water-based lubricant. Do not forget about hygiene. You should properly clean your toy after using it. Even when you are using your dildo with condom, clean it properly to prevent bacteria.
How to use this dildo with partner
There is no fixed way of how to use a double dildo. The most important thing while using it with your partner is communication. You need to tell your partner when you are enjoying the most and when he needs to stop. There are number of positions that you can try while using this amazing sex toy. It's totally you and your partner's choice as what position you want to choose. Even you can discover position on your own as it's all about pleasure. More the creativity more will be the fun.