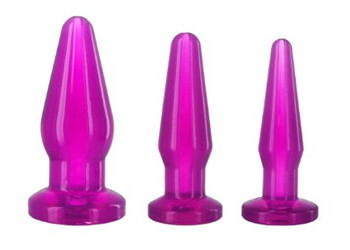 Many couples use butt plugs to spice up their sex life. They are quick and easy to use after you have understood its basics properly. However not many are familiar with how these plugs enhance their sexual gratification.
The idea behind butt plugs
Before we move onto how butt plugs help both men and women reach an ecstatic climax during intercourse, let's see how they affect every individual generically:
Butt plugs enhance your rectal sphincter muscles by simultaneously relaxing and contacting it – giving a unique and intense sensation in your anal erogenous area.
The sphincter muscles play an important role in any anal sex toy, including butt plugs. They hold the plug in position, preventing it to slip in or slip off.
Fetish and bondage play is very common using butt plugs. Insertion and removal when you are restrained excites your libido much more than in normal scenario.
What does a Butt Plug do to men?
Many men use butt plugs to reach an intense climax during intercourse. The prostate gland is located just above the rectum, and is extremely sensitive. When these plugs are inserted in the rectum, it strokes the prostate gland – causing intense orgasms for men.
These orgasms are certainly more exciting and intense than the ones achieved from penis stimulation. In certain cases, anal orgasms cause the whole body to shiver with thrill during climax.
Apart from the prostate gland stimulation, men also use plugs to stimulate the pelvic floor muscles. As these muscles begin to contract during orgasm, it makes for a much thrilling and sensational climax.
What does a Butt Plug do to women?
For women, butt plugs are specially designed to create pressure on the back vaginal wall. It increases the stimulation of her erogenous zones, and coupled with penetration, creates a much intense orgasm.
By inserting a butt plug, the pelvic space inside a woman's body gets reduced, thereby tightening the vaginal walls. This creates additional pressure during intercourse, and the extra texture from the plug makes sex more pleasurable.
Anal experience for both
Overall, butt plugs work very well during intercourse for both partners. Each derives their own gratification from it, thus enhancing their drive and libido during sex. This leads to a much more passionate affair which is nothing like having vanilla sex. So if you are looking to get kinky with your partner, butt plugs are a great option for both to go for.