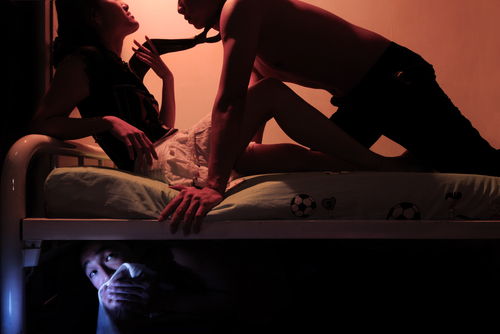 Who are we women kidding? Men might get turned on like that but they would always need some initiative from your part before they dare approach the kinkiest of your dreams. But every time you decide to go out, you come out looking out like a nymphomaniac! However, if you somehow manage to channel your sex drives into the creative energies, you would feel empowered with the knowledge of what exactly turns your man into a ravaging beast. So what are you waiting for? Grab onto those reigns and go on a fun ride! *Wink*
Ever wonder how to resolve the dilemma? Here are the ten things that would get him in the mood for some sizzling action in between the sheets!
Gain access to his greatest fantasy- Men are just boys waiting for their fantasies to come true. Does he love Star Wars? Well there's a great chance that he might get excited after seeing you in the Princess Leia gold bikini costume. While some liked to be cuffed by you in a skimpy cop uniform, others might want you to shower all your attention on them with your sexy nurse avatar.
Anticipation is the best Aphrodisiac- Do you notice how you cherish the stilettos you had bought after months of saving up but not the flip flops you bought at the supermarket the other day? Well, sex is somewhat the same. If you want your man to tear your clothes off as soon as he comes home, start by lightly caressing his nether region while and whispering that you'll wait for him when her departs in the morning. Throw in some snapshots of you in suggestive positions and see the magic come alive!
Grab a mouthful- You should never be afraid to put your mouth where the money is when it comes to oral action. However, don't be shy while being tender with his manhood! Sex is supposed to be a fun intimate activity that couples share and believe us when we say that he'll get a kick whenever you make eye contact and when going down on him! Your stifled moans would be an instant turn on!
Be Bold, Go Dominant- While going all dominatrix and BDSM might be an attractive option for the fierce gal, if your man is someone who doesn't want to compromise on his alpha male ego even in the bedroom, talking dirty to him and initiating intercourse first might get all the sexual juices flowing freely!
Be Porn-tastic!- Most of the girls would consider the idea of watching porn with their man to be revolting. But there's absolutely nothing wrong in sharing your sexual appetites over an hour of porn. Try mimicking some of the porn moves and who knows? He might feel like the superstar of his real life porn show. Since both of you would be at your most vulnerable, the sex after watching porn is sure to be something out of the world!
The Right Attire- You don't have to slip into a fictional character every time you wish to seduce him. If you wear sexy lingerie and heels together you have a lethal combination in your hands! It would highlight all your curves and ensure that your guy doesn't hold back past the two minute mark!
The Tomboyish Spark- Just throw one of his oversized see through shirts on yourself and keep the first few buttons open. There's nothing sexier than a girl in lover's clothes!
Mirror the excitement- Strategically place mirrors all over your room so that he can enjoy the view of excited moans as well as the contractions of your backside.
Strip Tease- Why not let your inner bad girl take over for once? Put on some seductive music and do what you do best!
Have fun yourself- A man turns horny as soon as he sees his girl aroused in his presence. Pleasure yourself first and think about him later!