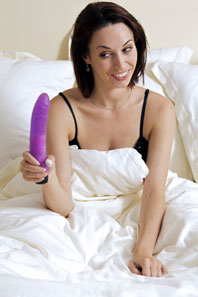 The sex toy industry is like any other industry, they innovate and struggle to develop better products for their clients.
The amount of high tech and advanced sex toys is crazy these days!! You can have a human size sex doll that looks as real as it can possible be!! You can even have sex with people that are in different places than you, 3D printers are making almost everything and so on…With all this variety it´s hard to choose one or two, so here is a list to make it quicker:
1) The Doxy Massager: This one is "THE MAN" of the electric wand massagers. It has variable speeds, nice design, everything made for your pleasure, this luxury vibrator is designed for everyone (beginner to advanced) and easy to use. It can be kinda "pricey" compared to other simple models but it really pays-off (if you know what I mean hehe) cause you are getting a high level product.
2) Kegel Exercisers: Just for the record, let me start explaining this: kegel exercise is usually a floor exercise to strengthen your pelvis, it has benefits for men and women such as the reduction of : urinary incontinence and premature ejaculation as well as to increase the size and intensity of erections ( I bet you didn´t know that!) kegel exercises can also be made with the help of tools, called kegel exercisers. These days the exercisers are being controlled by smartphones and what not. The apps will give you all the info you need and some more!

3) To Spice the sex, during the sex: The MiMi vibe is a great catch for people who can't reach orgasm alone (way more people that you might think). Ok problem solved. Last thing you know you will be screaming of joy with this toy. It has five vibration patterns to choose from, easy to carry and fits easily in between two bodies.

4) The Couples Vibrator: This vibrator has loads of different speeds and settings, a soft head that splits in two for pleasure enhancement! It is also a very discreet vibrator with a smooth design.

5) Rabbit Vibrators: You may have heard of these vibrators before, this device became a classic and that´s probably a good reason for it, right? If you haven´t tried it yet you really should! The rabbits are dual action vibrators designed to provide more pleasure than a regular vibrator by simultaneous stimulation of the vagina (internal) and the clitoris, the highlight would be the rotating beads of the toy.

6) Lelo Ora: Who said oral sex are just a treat for the guys? Women loves receiving oral sex just as much as a man! If you don´t enjoy it, there is always a chance that your partner is just being lazy about it. Well let´s focus on cunnilingus here, ORA is an amazing and good looking device that get´s you the oral pleasure you deserve, it´s so pretty you can say it´s fashion item on your desk or something. Ora provides 10 stimulation modes (with licks and swirls), easy to use discrete buttons and it´s of course, waterproof (they think about everything huh?).