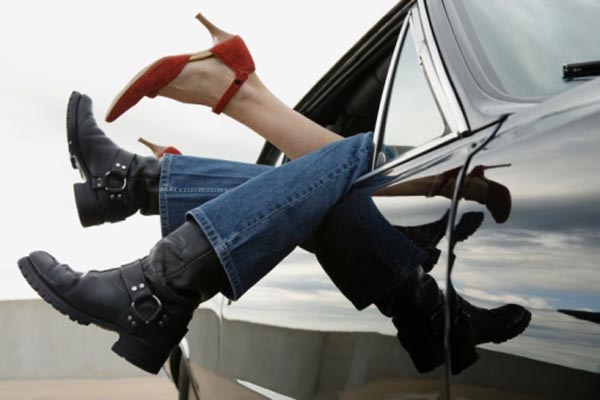 The bedroom is your best friend, but when you want to remove the monotony installed in the private life of the couple, you should dare try erotic nature and environment changes. The solution lies in the Parking. Here are the most interesting positions for sex in the car and what tricks you need to consider when you practice.
Passenger sensual, the most interesting positions for sex in car - your partner should sit in the front seat and you should sit on his arms (back to him); moves that you come to realise the best of it. You have control, so it will impress your lover. The good news is that this erotic posture allows both clitoral and G-point stimulation, being the perfect recipe for a memorable "driving match".
Yab Yum posture-auto version - known as a Tantric sexual position, Yab Yum- is inspired from the classic Lotus posture, but the auto version is much more interesting. Moreover, the positions for sex in the car instantly become more specific than those achieved in the bedroom. Do not give up passenger seat, but try it in the continuation of the above. All you have to do is to go back and face your partner to keep feet on both sides of his body. Alternate pace with the slow and orgasm will not let long expected. Your partner can explore your body freely during this time. The vagina muscles will highly contract during intercourse for unexpected sensations.
Reinterpreted rider inverted position - rear seats are perfect to try this erotica position. Push the front seat as close to the dashboard, so as not to interfere. Your partner can sit in the back seat, then it is recommended to spread your legs apart scanned the front. Stay away from him, keeping legs bent seat. Before you enjoy the sensations aroused by this position, place a towel on the spot for hygienic purposes.
Bondage-the customary positions for sex in car – bondage is a sexual practice that enjoys increasingly more popular, especially after the success of the Fifty Shades of Grey film. Obey your partner to 'torture' in the back seat. Tie his hands with seat belt, biting him for sweet and crazy pleasure. The apology does not take place now. Sit over your lover with legs around his body, arches easily back up and let yourself shrouded by erotic sensations.
Sex on the road has both advantages and disadvantages for a couple, so you have to take into account all and decide if you're willing to venture or not. Here are all interesting features of car sex:
Seasoning and diversification of life erotic elements necessary for expulsion monotony of torque;
Increase sex drive and adrenaline;
Stimulating the imagination in terms of sex;
Creating a special bond with your partner and will always consider safety as a spontaneous and passionate woman;
Experiment with new sensations;
Increasing the circle of information in the sphere of erotica.
Prove your boldness and sexual spirit and explore the captivating and exciting world of unlimited and adventurous sex.