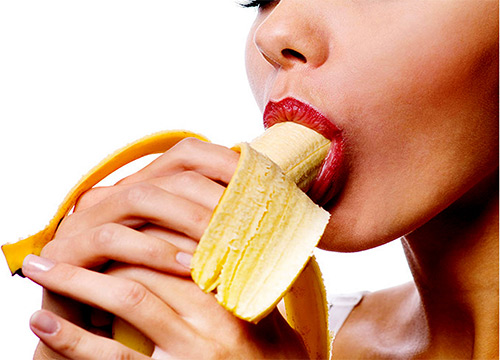 One of the greatest pleasures for men is Deep-throat, which is a type of oral sex that involves the total penis swallowing- very exciting for male fantasy. Get rid of inhibitions and surprise your lover with an exciting oral sex that will make him explode with pleasure.
Beat your limits and improve your technique following few simple tricks, which will turn you into a goddess of eroticism!
Practice with a banana- For starters, it is best to practice deep-throat with a banana or a sex toy, such as a vibrator. Although the sensations of a real penis will be different, this practice will help your neck muscles relax, but also to find the right angle, so you do not have the feeling of reflux.
Relaxation of muscles - Although at first it will be harder, after a few sessions you will eventually relax your neck muscles and prevent reflux. All you have to do during exercise, but also during the oral act is to relax your neck as you swallow a pill higher.
Do it gradually - Do not try to swallow the whole penis first. You have to start easy and gradually swallow the cock so get used. First, start with a normal oral sex and then move on to deep-throat. Mouth and throat should be relaxed completely. Grab the penis with your hands and then wrap your lips on the top and down little by little until you feel comfortable.
Use your saliva -To be able to do deep-throat, the penis must be well lubricated, so you need a lot of saliva, because slippage much easier. So, do not be afraid to use your full saliva- it will incite hugely your lover and yourself!
Control your breathing - The hardest stage of a deep-throat sensation is controlling the reflux. For this, you must learn to control your breathing. Thus, in order to avoid reflux, you need to know to breathe a few seconds during oral sex and alternate normal oral sex with deep-throat, and to help yourself with the hands.
If you want to make him tremble with pleasure, let the sexual tension accumulate gradually. In other words, teasing him just before stimulation, by "forcing" with hot kisses, approaching increasingly over his genital region. Anticipating moment will enhance satisfaction, so do not rush to take action. Done in such a way that they do not know what will be your next move.
Do not summarise strictly top-down movements of the lips, around the penis and so. Stimulate the pubic region, dares to explore the perineum, anus area or the ​​skin between the scrotum (there are thousands of nerve receptors of pleasure). The middle of the scrotum, between the two testicles, is also very erogenous for men. Sometimes, the amount of saliva is not enough for the whole game, so it would be more useful and more efficient to use a lubricant of high quality (you can choose your favourite flavors, so you feel like tasting the most delicious strawberry in the world). Try to find a comfortable position for you that does not favour installing unpleasant sensations.
A perfect deep-throat, given your partner at the right time, will bless the day that met you. It may sound superficial, but this sexual favours offered by the book, definitely help you conquer any man.