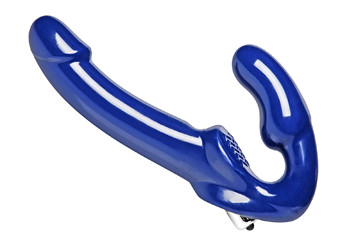 Straps on dildos are worn with harness during the sexual activity and broaden the sexual experience. There are different types of strap on dildos and strap on harnesses. The types vary depending on how the dildo is shaped, how the harness fits the user and the stimulation features of the dildo. There are different types of straps on dildos such as double, hollow, standard, vibrating etc. Straps in the dildos are used with or without harness.
Strap on Dildos facilitate easy penetration without using hands and also help you try different sexual positions. Sometimes these strap-ons help in easy masturbation and help you prolong the sexual experience.
Different types of strap on Dildos
Let us explain you the functions and different types of strap on Dildos.
Double strap on dildos - The double strap-on dildos are the best in terms of comfort and control. The man can wear it comfortably as his testicles and penis easily fit in between straps. It is a perfect strap for G-spot stimulation and will provide increased sensation to your body. It is one of the most popular harnesses as it offers stability and full control without any compromise with comfort.
Hollow strap-on dildos - Hollow strap-on dildo is an excellent solution to women who want to use it as vibrator and to men who face erectile dysfunction. Sometimes men get premature ejaculation and their partner is still wants them to continue, hollow strap-ons can be used to maintain the pleasure level. Hollow strap-ons are not made up of latex as it can cause allergic reactions.
Vibrating Strap-on dildos - Vibrating Strap-on dildos doubles the pleasure of partner on use. It gives you an amazing experience and an opportunity to double the penetration fantasies. The best part is that it is hands free, so you can enjoy the vibration while intercourse without engaging your hands. You can easily penetrate your partner or arouse them with the great vibrating strap-on dildo.
Other than the ones mentioned above, there are many other different types of strap-on dildos. You can get various features and options depending on your choice. Though you should keep some things in mind:
Always consider the harness style. It can make or break your sexual fantasy.
Thicker straps on the harnesses are better as it offers you more control and hence makes the experience better. Thicker strap harnesses make you enjoy without losing control over the dildo.
Always keep in mind the waist and hip measurement of the harness. Also see the maximum diameter of Dildo your harness can easily accommodate.
Strap-on dildos increases responses and intensify orgasms. If you are experimenting, you can start with a good strap which offers maximum comfort. Read different reviews of customers online about strap-on dildos, and go for buying dildo which suits you. The harness dildo is most recommended sex toy as it will holds the dildo and gives you many options to engage using with your hands. Use these different types of strap-on dildos of your choice and make your sex life amazing.