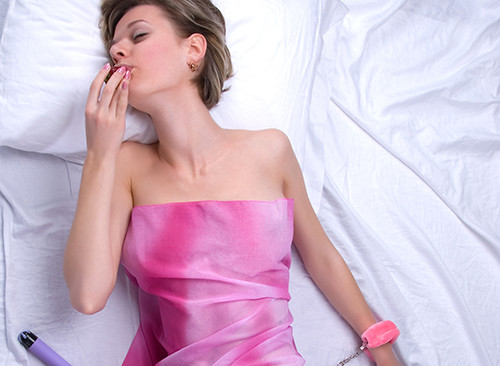 Have you noticed how men have been given the birthright to boast about their genitalia in front of their friends without the fear of reproach? No matter how far society progresses, there would always be a taboo on the subject of female masturbation. Consequently, rarely do we find girls who actually know how to love themselves and practice it without the fear of remonstration on their minds. But you would acquiesce that there is a bit if seductiveness in breaking out and going against the societal norms for the sake of your own happiness.
However, we would be lying if we said that we don't love stirring up a controversy now and again! After all, why spend time kissing frogs when you can already be a princess and pleasure yourself?
Masturbation: A Girl Beginner's Guide
Fix your mind girl!- New experiences might be frightening at the outset though they end up being invigorating later on. Many first timers would feel queasy at the thought of masturbation but a will to try new things and an affinity to learn beyond obstacles is what matters! Once you go beyond your mental block, you would be prepared to get all that you deserve and more!
The fundamental Truth- Would you book a trip to Switzerland without finding out about the accommodations? Well masturbation is somewhat the same! Get a detailed idea of what the process entails before you plunge into it. Going into it utterly clueless will only make you feel miserable later on.
Set a time and place- Since masturbation is an intensely private affair for a girl, you might want to seek out places where there would be minimal chances of external interruption before you go about the whole thing. If you feel comfortable doing it at night, unleash the nocturnal beast within you while if you are a morning person, dedicating twenty minutes to yourself in the bathroom before you go to work might be an easier option.
Be cozy with your clitoris- It is a good idea to take the help of a small mirror so that you know exactly where you want to channel your sexual energy. Those age-old biology lessons at school must surely have taught you that the labia majora, or the fatty tissue beside your vulva form the 'lips' that protect your vagina. When you part these, you will discover a small nubbin nestled at its crown. Clitoris basically is the female version of the male penis and with more than 8,000 nerve endings you can only guess how sensitive it would be. While masturbation myths would advise you to pound and go hard on your vagina, gently massaging the clitoris or using a clitoral stimulator might just make you climax!
Experiment with your desires- There's nothing more fun and exciting than getting to discover what makes you tick! If you feel touching the entire clitoris is surely not the way to go, you can start by gently massaging its hood and your instincts would convince you to do the rest. Avail yourself of a water-based lube and make swirling movements on your vagina using the lubricant generously. Sitting up against the cold exterior of a washing machine or rubbing your vulva back and forth on a cushion might seem yucky but would open up the floodgates of sexual energy. You can always buy a pillow later!
It's about to get personal- There's only so many ways you can masturbate and it can get monotonous after a point of time. It's time when you have to introduce a personal touch. Read fan fiction or porn magazines or whatever floats your boat to get the mood going. Let the flood of water from the detachable shower head sink your clit in a sea of passion. On the other hand, if you like it hard, seeking the help of a vibrator to orgasm is no shame.